Introduction
Berkshire Hathaway HomeServices Fox & Roach, one of the nation's top real estate companies, is unique. A highly-reputable company with age-old history and deep-rooted traditions.
Yet being true to traditions and core values hasn't prevented the company from evolving and innovating.
One of their core values is scaling growth while maintaining a very close relationship with their customers.
Rajeev Sajja, VP of Digital Marketing and Innovation, is at the head of Fox & Roach's scaling efforts. With more than 20 years of real estate Marketing Technology experience under his belt, Rajeev knows how to keep the company inline with today's consumer demands but also the company's values.
"Taylor has been live on our site for more than 6 months now and since its launch, we've been seeing a steady increase in opportunities generated every month. - Rajeev Sajja, VP of Digital Marketing and Innovation
Real estate is personal
The real estate needs differ from one person to the other.
Rajeev is aware that the online consumer experience today is lacking when it comes to that "personal" aspect.
The Fox & Roach website, for example, gets hundreds of thousands of unique monthly visitors per month. As with most real estate websites, these visitors were subject to one standard experience no matter what their needs were.
That was no one's fault. The tech needed to personalize the experience to each and every visitor did not exist, until now.
With the help of Roof AI, Fox and Roach are now able to speak to different types of consumers that visit their site every day.
71% increase in high quality opportunities
BHHS Fox & Roach launched Taylor, a Roof AI powered virtual bot back in April 2021.
"Taylor has been live on our site for more than 6 months now, and since its launch we've been seeing a steady increase in opportunities generated every month", said Rajeev.
"It's the quality of those leads that interests us. By implementing a personalization strategy, we are providing real-time value to our website visitors. They like it and they are letting us know." said Rajeev. "Through Taylor we are able to know the intent of the customer and serve him better, which results in better quality leads."
What first time visitors on the Fox & Roach website see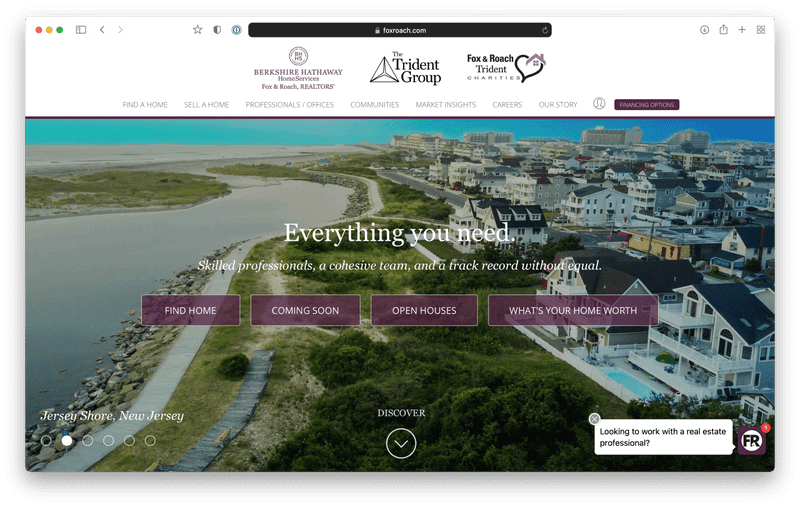 What website returning visitors see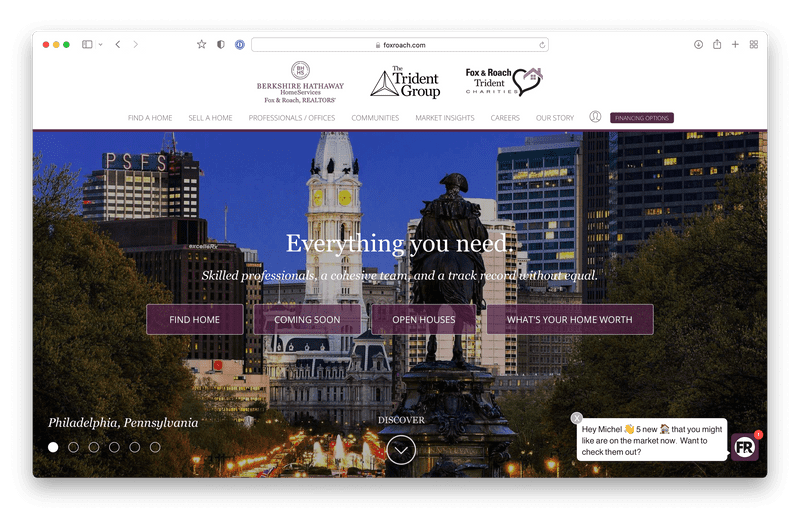 Returning customers get to experience a more personalized homepage that helps them continue where they left off. This removes the friction of having to do a new search every time you visit the site again, as well as having to log-in or sign up in order to save property searches.
A 40% open rate that beats the market
"What Roof AI has enabled us to do is to present this personalized experience across many channels, not just our website. With Roof AI we were able to create a personalized omni-channel experience that starts on our site and continues into our client's inboxes with nurturing campaigns that are tailored to each and every user", said Rajeev.
Roof AI gives Taylor the capability to use a visitor's website behavior and preferences to "tailor" the property recommendation even further.
This resulted in a 40% average open rate. More than double that of the industry's average.
How Fox & Roach generates more revenue opportunities, by catering to specific needs
Part of Fox & Roach's personalization efforts is the ability to promote their core services to customers that might be interested.
For example, if a customer mentions to Taylor that they haven't been pre-approved for mortgage, Taylor will send them a personalized offer to help them start their pre-approval process.
"Taylor helps us identify the intent and promote our core service to the customers that need it.", continues Rajeev.
In fact, Taylor helped Fox & Roach generate more than 84 potential mortgage opportunities.
"With this cross-promotional strategy that is based on customer intent and needs, we are now able to extract more revenue opportunities from our site. In the past, our website visitors submitted a single form that did not say much about their intent. With Taylor, our website visitors can now tell us what they are looking for exactly, which enables us to offer it to them autonomously, through Taylor.", said Rajeev.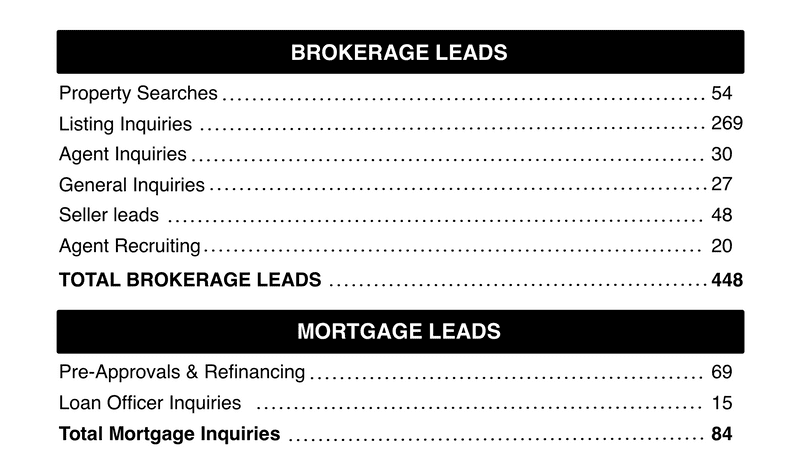 The above report is for demonstration purposes only, and may not reflect actual numbers.
It's a competition. A fierce one.
The competition for customer attention is fierce. And people's attention spans are getting shorter and shorter.
"The key is to focus on your customers and help provide them with an excellent experience right from that first brand interaction." said Rajeev.
When web visitors successfully end up on your homepage, companies need to make sure they are catering to whatever these visitors are looking for. Real estate companies should provide value as soon as a potential client lands on the site.
This value is portrayed through real-time customer service and a personalized digital experience. By following this strategy the Fox & Roach team was able to:
Increase online lead generation by more than 71%.
Create successful personalized nurturing campaigns with a 40% open rate.
Generate revenue opportunities such as mortgage leads from their existing traffic. More than 84 mortgage leads.