Redfin is the number #1 most visited brokerage website in the US.
Redfin drew more than 20 million monthly average visitors to their website and mobile application in 2017, 40% more than in 2016, making them one of the fastest-growing real estate websites.
(According to SimilarWeb, they had 38M visitors April. Both website and app visits).
That being said, they know a thing or two about websites. And since their website is their main source of leads, they are investing heavily in optimizing it.
To know more about the tactics they are using, I went over their 2017 Annual Report and gathered a few golden nuggets that we can all learn from. They revolve around two things:
generating traffic to their website,
using "next generation tools" to capture and convert online leads,
Before we delve into those two points, I wanted to introduce you to a concept that is quite known in the startup scene called the 'full-stack approach'.
Full-stack approach is about building "a complete, end-to-end product or service" with the goal of bypassing competitors" and owning the relationship with the end customer.
A well-known VC said that,
"for end users, full stack startups deliver a much better experience, because they have complete control over it."
Prominent examples of this "full stack" approach include Uber, Lyft, Apple and Netflix. Most of these companies had "partial stack" antecedents that either failed or ended up being relatively small businesses.
Problems that the full-stack approach aims to solve include:
A. Bad product experience. By trying to eliminate as many commercial and logistical intermediaries as possible to save time, money, master their market and engage with the end customer.
B. Cultural resistance to new technologies, something we usually see in real estate.
Aiming to become a full-stack company means founders have to care about every aspect of their product/service. They need to get good at many different things besides software including design, consumer marketing, sales, partnerships, regulation, etc.
All this to say that Redfin is a "full-stack" brokerage, at least it is aiming to be one. The brokerage controls everything from lead generation to closing. They want that control in order to solve certain inefficiencies that other traditional brokerages suffer from. We are seeing other top real estate companies adopting the "full-stack" mentality including Re/Max and KW.
The Redfin Strategy
Redfin's 2017 annual reports starts with an overview of the business and a summary of their strategy:
"Our strategy is simple...We meet customers through our listings-search website and mobile application. We let homebuyers schedule home tours with a few taps of a mobile-phone button, so it's easy to try our service. We create an immersive online experience for every Redfin-listed home and then promote that listing to more buyers than any traditional brokerage can reach through its own website. We use machine learning to recommend better listings than any customer could find on her own."
They go on saying that by being tech-focused they are able to gather data points that help them streamline the communication process between the consumers and their agents.
That's one of the key factors for a better customer experience.
Inefficiencies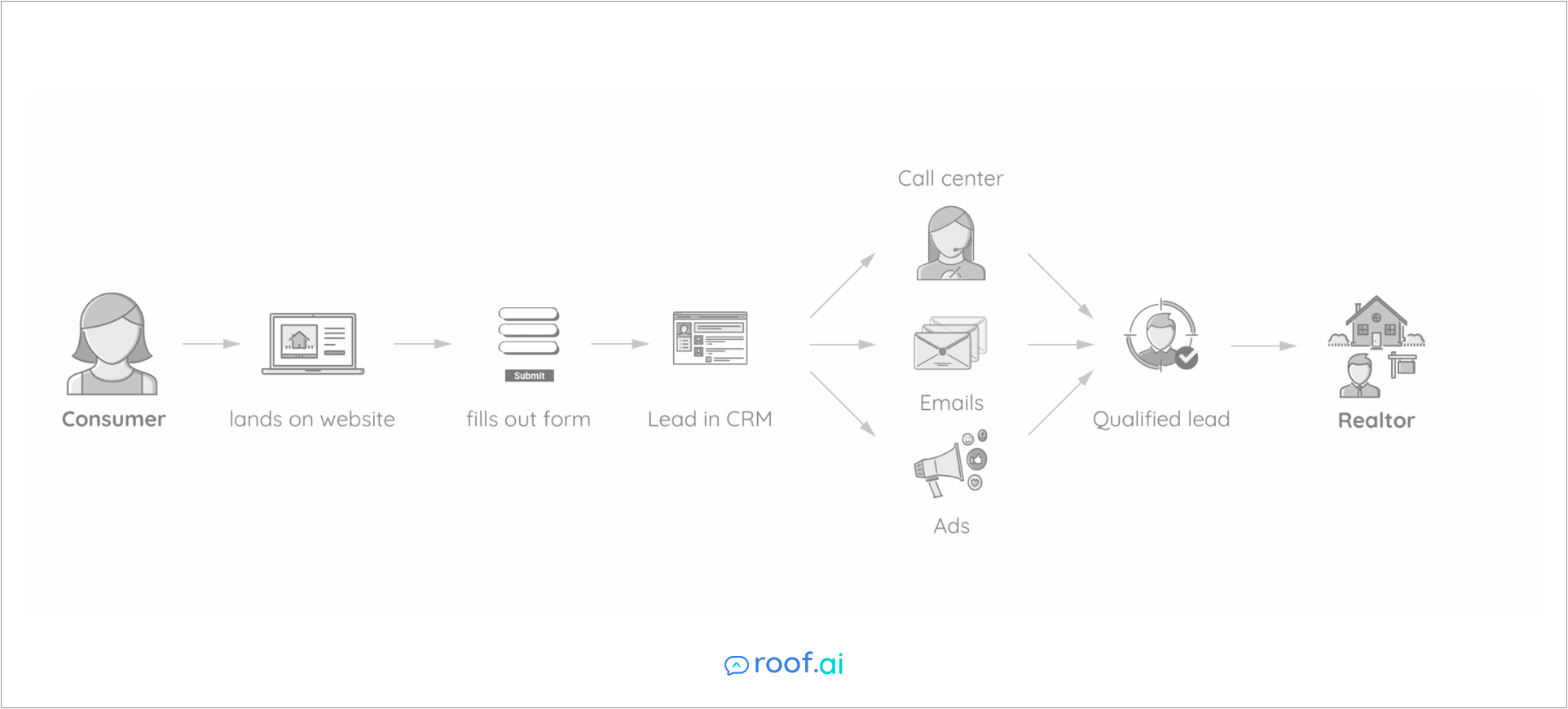 Vs. Streamlined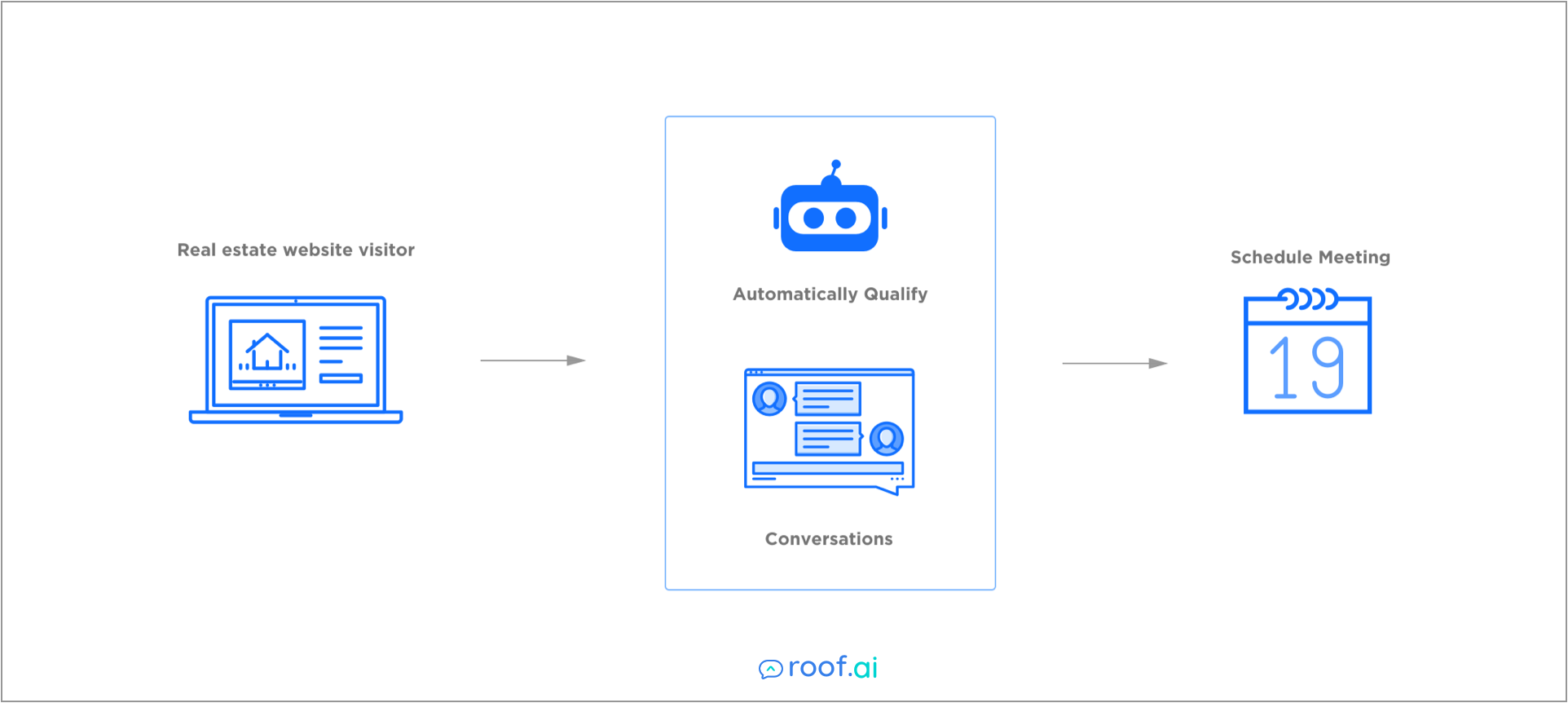 1. The Marketing Secrets
Generate Your Own Leads
Redfin generates their own leads, they do not buy leads from third parties.
Why do they do that?
It goes back to the full-stack approach. They want to be in control of a key factor of the business, which is something not many traditional brokerages are invested in yet. Agents in traditional brokerage have to generate their own leads to grow their business.
So what happens when the brokerage controls lead generation?
According to Redfin, it frees up the agents time and get them to become more efficient and productive, and focus more on servicing the customer.
Here's how Redfin generates traffic to their website:
Shift to Digital Media
Glenn Kelman in the 2017 annual earnings call mentioned that they will see more of Redfin's media move online because more people are spending more time online.
Marketing Channels
Using data, Redfin actively measures which of the digital channels are most cost-effective.
These channels include:
- Search engine optimization. Redfin's engineering teams constantly upgrade their website content and performance so that search engines find and rank the results for properties, neighborhoods, and regions. This method, Redfin believes, improves the customer experience and ranks them on high-traffic search engines.
Targeted-email campaigns. Redfin runs targeted-email campaigns to connect with customers. "These email campaigns, powered by machine learning, recommend relevant new listings to homebuyers and home sellers at what we believe are key moments throughout their interactions with us".
Paid-search advertising. Redfin advertises with top-trafficked search engines, regularly adjusting their bidding on keywords and phrases, and modifying campaigns based on results.
Social media marketing. Redfin purchases targeted ads on social media networks such as Facebook and Twitter to generate traffic for their website and to attract new customers.
Data-Driven Approach to Marketing
Redfin uses a data-driven approach to identify the success of their marketing efforts.
This approach can identify the best, most cost-effective way to drive customer awareness on both digital and traditional advertising channels.
Redfin mentions that it is easy for an advertiser to lose track of which online lead ends up closing, when online leads hop "between websites and different individual real estate agents over a year or more during a home search". That's why having a website well-equipped to capture data points and monitor website traffic activity is integral in determining the success of your marketing campaigns.
2. "Next-Generation Technologies"
Redfin is building their software with the aim of making real estate more efficient. Features of the software include automated tour scheduling, pricing homes, chatting with customers and monitoring the closing process.
Machine Learning & AI:
Redfin uses both machine learning and AI to answer customers' most important questions about where to live, how much a home is worth and when to move. They also use these technologies to notify customers about a new listing on the market by mobile alerts or through email. They mention in the report that,
"According to a 2017 study we [Redfin] commissioned, we notify our customers about newly listed homes between three to 18 hours faster than other leading real estate websites".
Redfin's listing recommendations engine is powered by machine learning. Meaning that they know which listings customers visit online, tour in person, or ultimately make an offer on. And that in-turn lets their algorithms make better listing recommendations. This strategy ultimately increases the revenue generated from online visitors by personalizing the website and the service to keep customers engaged with Redfin from their first visit to a closing.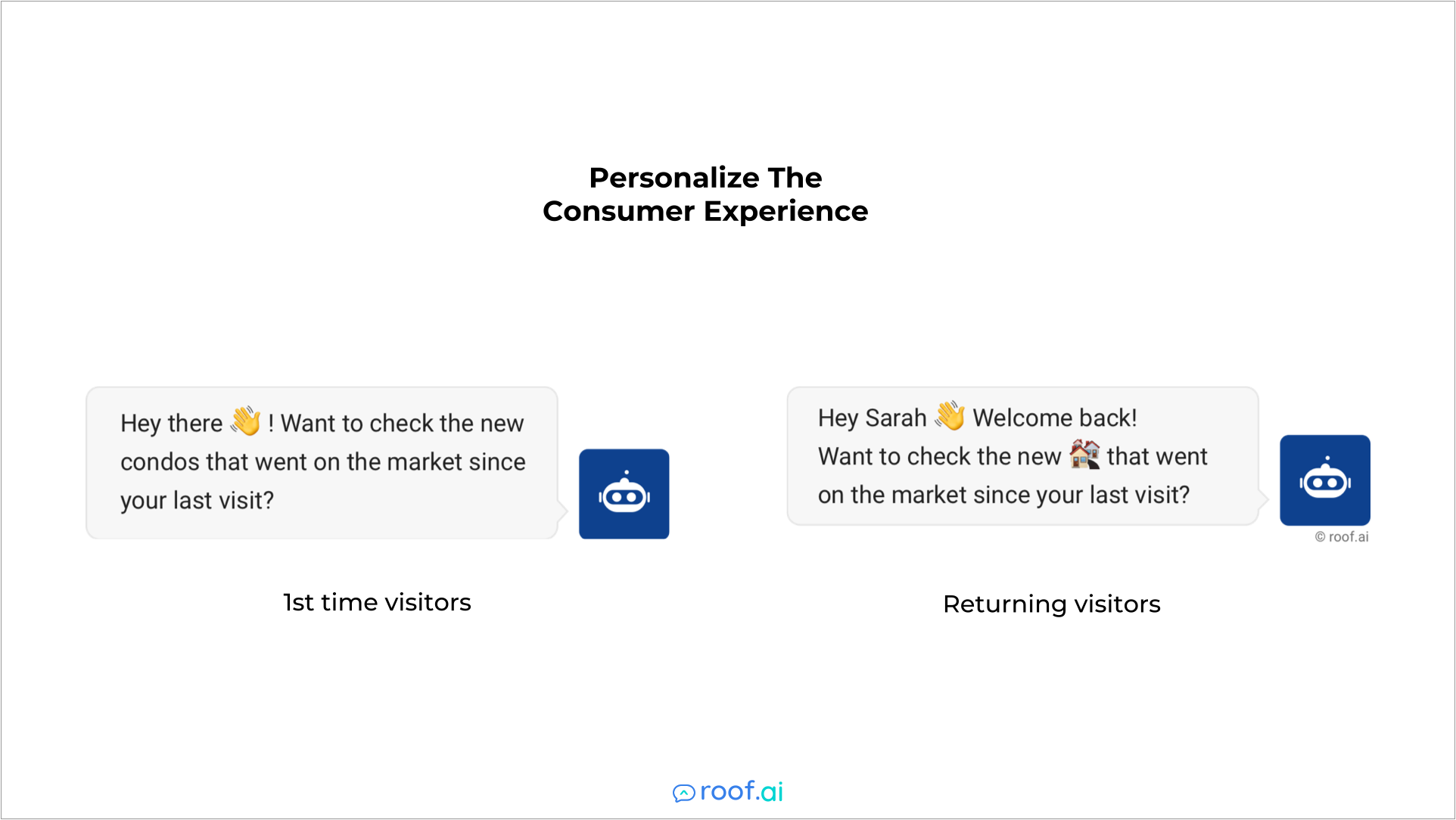 That's exactly what Roof AI is helping real estate brokerage do online.
On-demand Service
Uber, Amazon, Airbnb, iBuyers are all examples of on-demand companies/services. Such companies know that instant gratification and faster service is important to today's consumer.
Redfin provides on-demand services. They say that customers place a premium on speed and that when they "offer online visitors faster service, more try that service". Redfin introduced instant and automated home tours scheduling, a service that was used by nearly 80% of Redfin's customers.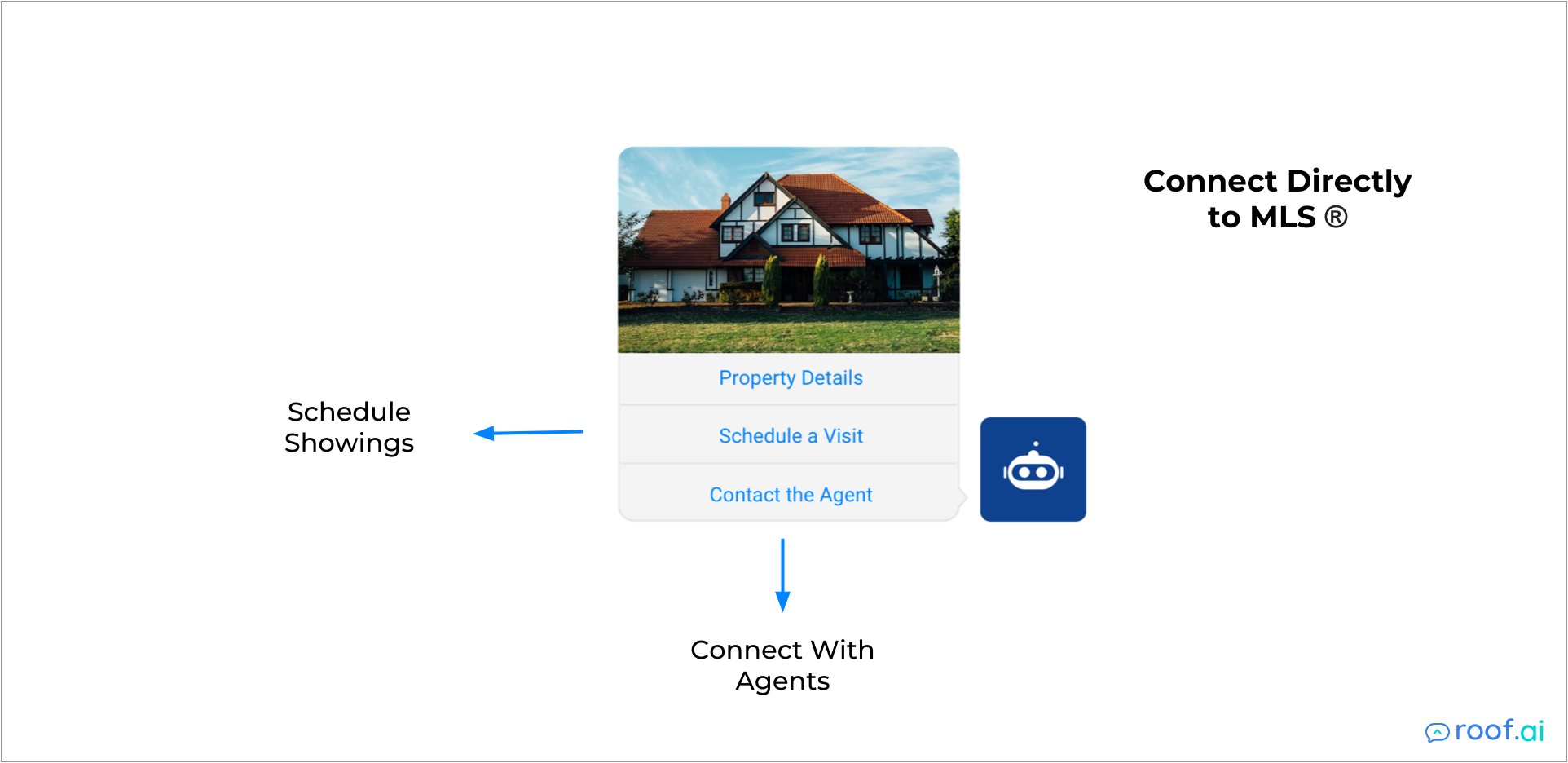 The brokerage is further automating tour scheduling by adding a new level that confirms the availability of certain homes being toured. They have also upgraded the software with a new online calendar to give customers a more personalized service.
Activity Monitoring
Redfin analyzes the behavior of their website visitors and uses the insights gathered to personalize the experience.
One example is noticing whether the customers are online on the website but just hasn't been active with the brokerage. In that case, they would notify the agent that they probably need to reach out and see what's going on with that visitor. If they notice the customer is searching often, but hasn't setup online alerts that's another sign that the agents need to do that for the customer.
A strategy that can be automatically employed by bots as well.
In the earnings report they mention,
"most of the software that we are developing over the course of this year is to personalize the service so that we know more about what that customer needs in any given moment and can be there to deliver that service at the right time. And we think that can significantly increase close rate, because we still spend most of our time with people who don't end up buying house".
Conclusion: Here's How Redfin Claims To Be Winning And How Competing Brokerages Can Catch Up
Focusing on website for lead generation: Redfin believes that their ability to meet customers on their website and mobile application has a profound effect not just on their economics but on their culture as well. They claim that by taking control of lead generation, their lead agents' primary responsibility becomes not generating new leads, but advising customers on buying and selling homes.
Using "next generation" technology to improve the customer experience: Redfin is actively using machine learning and AI to provide their customers with an instant, more accurate and efficient service. Using such technology they are able to automate many of the tasks that agents were once responsible of doing, freeing up their time to service the customer. Such tasks include automated tour scheduling and answering customer inquiries. They also capture customer-interaction data points that powers their listing recommendation engine.
How To Compete
Redfin is expecting other brokerages to adopt similar technologies in order to compete and become relevant to today's consumers. In their earning's report they mention,
"We expect increasing competition from technology enabled competitors, including new brokerages with technology-driven business models, as well as traditional brokerages that acquire or build businesses or technology to enhance their offerings".
And many have already started doing so.
They go on by stating bullet points on how they will continue to compete. Here's the list:
- access to timely, accurate data about homes for sale;
traffic to our website and mobile application;
the speed and quality of our service, including agent responsiveness and local knowledge;
our ability to hire and retain agents who deliver the best customer service;
the costs of delivering our service and the price of our service to consumers;
consumer awareness of our service and the effectiveness of our marketing efforts;
technological innovation; and
depth and breadth of local referral networks.
"We believe that our customer-focused values and technology differentiate us from our competitors and that we compete favorably with respect to the factors above."
Whether you believe in Redfin's business model or not, you cannot deny their investment in tools and data-driven strategies to make the customer experience more streamlined and efficient.
Sign up to Roof AI if you are looking to enhance your online customer experience.