Here's what happened these past few weeks:
News Corp, the owner of realtor.com, acquires lead qualification service Opcity.
Zillow announces that they will move deeper down the funnel with more lead qualification.
Both entities will qualify leads and hand them off to the agents when appointments have been booked, in return for a bigger cut of the commission.
Opcity charges a referral fee of 30%-35% of a buyer's agent commission. Zillow will also take a bigger cut of the commission.
That makes sense since they will end up removing a lot of the legwork that the agent usually does qualifying leads.
The model is not new
Steve Murray mentioned that his company RealTrends, have recently finished a study in which they found that agent teams have 35/65 splits. The team gets 65% and the agent 35%. Brokerages split on the other hand, averaged around 85/15 splits with their agents. The difference between the two: teams provided the leads, brokerages did not. Source
But why not?
Why don't brokerages take advantage of such a dynamic.
Instead of letting their agents give companies like Zillow and Opcity a bigger and bigger cut of the commission, why don't brokerages invest in such systems and take that bigger chunk.
The money that the agents are paying companies like Zillow and Opcity can be funnelled back into the brokerage, and reinvested in such systems.
I know that this is easier said than done. But with today's tech, brokerages can generate and qualify leads at scale = monetize them.
The Revenue Opportunity
In a recent blog post, Mike DelPrete - a strategic advisor in real estate tech- gives us a closer look at the revenue opportunity:
"Back in FY16, when Zillow last reported the figure, it generated around 17 million leads during the year. If we assume Opcity's 4% lead conversion rate (between 3x-5x the industry norm of 1%) and a 30% referral fee, those 17 million leads are worth $1.4 billion in revenue to Zillow (about 50% higher than the ~ $930 million in current premier agent revenues today)." Source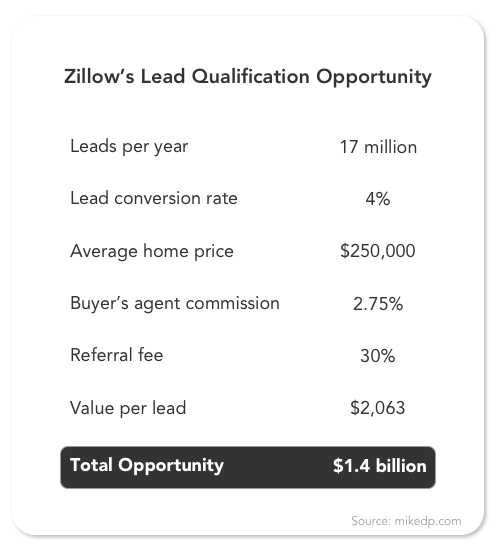 Source: mikedp.com
Takeaways
The ROI of the concierge - referral model is high. Leads are better monetized if they are qualified and then referred to agents.
Agents will pay a higher premium for a higher quality lead. The more value you give to agents, the more revenue you can get.
Technology is helping companies create such a winning formula.
If lead qualification can deliver a better experience for agents and consumers, is possible to do at scale with the advancements of technology (AI/Bots + People), and can be monetized to provide a higher return on investment, why aren't brokerages jumping on such an opportunity?
Some are already.