In a previous post, I talked about a digital transformation happening and its effect on real estate's digital future.
For years now, real estate companies' digital innovations were targeting single components of their organizations, whether it was implementing marketing automation tools or updating their corporate websites.
Today, such small 'siloed upgrades' are not enough anymore.
It has become critical for real estate companies to invest in digital solutions that have a positive impact on their entire organization and not just one single component.
To implement effective digital strategies, real estate companies have to think beyond their website or email marketing. Real digital transformation in today's era is about creating efficiency across all of your departments and teams, particularly marketing and business development, with the goal of not only creating intelligent customer experiences but also accelerating conversions and creating new revenue opportunities.
That's how Roof AI is helping real estate companies. Roof AI will bring your lines of business together to create a unified and engaging personal experience for customers across all of the home-buying journey.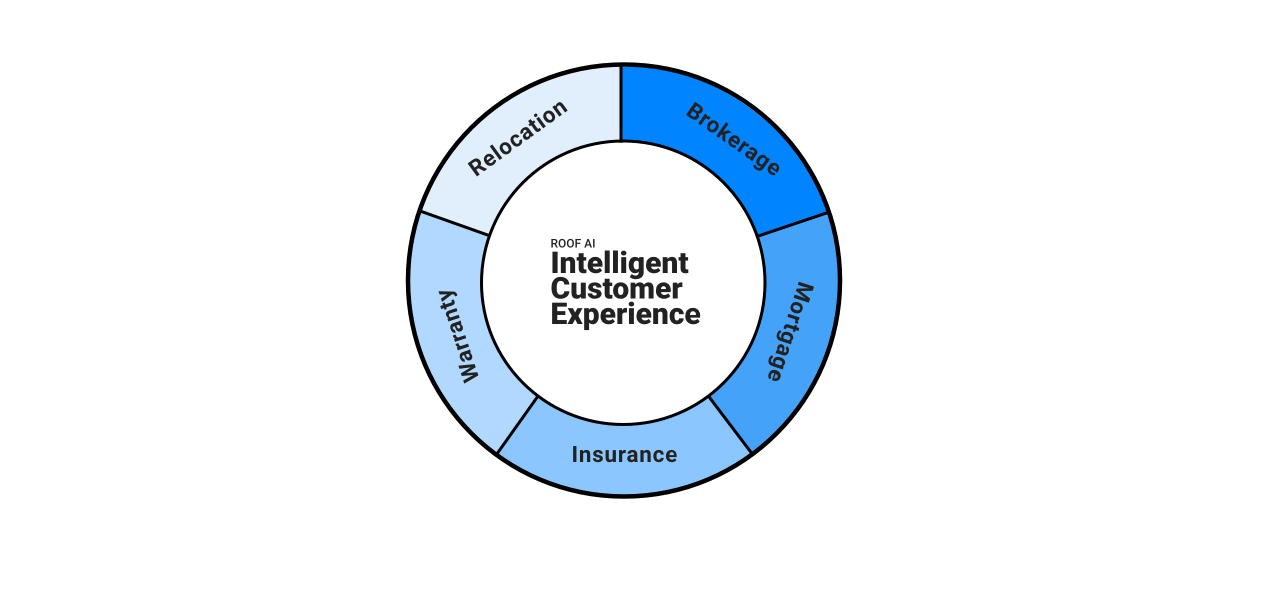 You can think of Roof AI as a layer of technology that allows real estate companies and brokerages to offer intelligent customer experiences around their core services that includes: Brokerage services, mortgage, insurance, warranty and relocation.
The goal here is to make it easier for real estate companies to serve their customers in a way that is relevant to today's digital dynamics.
Let's start with the core.
Brokerage:
At the core is a real estate company's brokerage services, helping people find a home best suited to their needs.
Think of the consumer-agent relationship.
Even though they might be working with an agent, customers still look for houses on their own. Yet it is still the agent's responsibility to guide them through that process by suggesting homes/listings that match their preferences, answering any questions they have, scheduling showings and following-up on any inquiry submitted by the customer.
Given that more and more of the above interactions are happening online, real estate companies should be equipped with the tools that allow them to service their clients online, the way they have to come to expect.
With Roof AI, real estate companies are transforming their online customer experience to mimic the experience clients get offline, with their agents.
Roof AI will enable real estate brokerages to:
Guide and assist home-shoppers along their search, suggesting accurate property recommendations on and off the website.
Schedule showings and answer listing specific questions.
Provide excellent customer service by following up on different inquiries submitted by the client.
Reduce manual follow-ups for the customer care team.
Collect important data points to be better informed about the needs of a client (whether prospects are working with an agent or not, whether they have been pre-approved).
Mortgage
The competitive nature of the real estate market is putting pressure on a brokerage's profit margins. Real estate companies who want to compete and grow have to find ways to add new potential revenue opportunities to fund that growth. One way to do that is through their complementary lines of business.
With Roof AI, real estate companies are promoting their core services in a 'smart' fashion along the customer's buying journey, generating new revenue opportunities from their existing client base, without spending additional marketing dollars.
Let's take mortgage as an example.
One problem when it comes to lending and financing is that the experience going from searching for a house to financing it is clunky. Brokers today rely on traditional offline methods and external parties to service their clients with financing products. This slow and fragmented experience resulted in poor conversion rates and lost revenue.
With Roof AI, real estate companies are able to avoid the latter and capture mortgage opportunities right on their website from their existing traffic. Roof AI's loan assistant will autonomously capture, qualify and connect mortgage leads with a loan officer.
Here's where things get really interesting.
Roof AI's assistant has the ability to nurture brokerage leads with personalized mortgage email campaigns, converting buyers into mortgage opportunities. Not only that, but also promote the brokerage's agents to mortgage leads that are not working with an agent. This 'cross-promotion' of core services helps real estate companies create new revenue opportunities from their existing clients, without spending extra marketing dollars.
I will discuss in a following post, how Roof AI promotes other services including insurance, warranty and relocation services, enabling real estate companies of all sizes to keep more of their transactions 'in-house'.
As mentioned previously, for real and effective digital transformation, real estate companies have to look beyond 'siloed' upgrades. To successfully compete in today's marketplace, leaders have to look for effective solutions that can help them promote their core services in a seamless and unified fashion, and ultimately generate new revenue without additional spend.